ISO document translation services at AM Vietnam
Established in 2012, AM Vietnam is a leading company in the field of languages and global translation. Clients have known AM for our innovative, effective and professional approach. Our ISO document translation services are tailored to each specific field with a team of experienced professionals.
Our application of translation management expertise and a network of specialized linguists from over 40 countries have provided clients with rich translation experiences. Our ISO document translations always bring the highest efficiency to clients by quality and fast delivery.
Our global resource is native translators with expertise and experience in management science. We are available right at your target market.
Professional language services for ISO operations
ISO documents can be in print (hard copy) or electronic form such as websites, images, pdf files, videos, etc.
Criteria for a quality ISO document translation
ISO standards can be adapted to any area of business operations from service quality to environmental commitments, security, confidentiality, etc. ISO documents belong to the category of business management documents and may contain separate technical processes. Therefore, when translating ISO documents, it is particularly necessary to ensure the following fundamental quality criteria:
Accurate, conveying the same meaning of the source document
Regular, clear, easy-to-read language
Technically correct use of terms and groups of terms
Fast delivery & strictly confidential
In addition, we have developed a set of criteria for each specific activity and fused them into a well-thought-out process. The final products will satisfy your expectations.
ISO document translation process at AM Vietnam
If you are looking for a professional translation service provider, you can take a look our process tailored for energy document translation: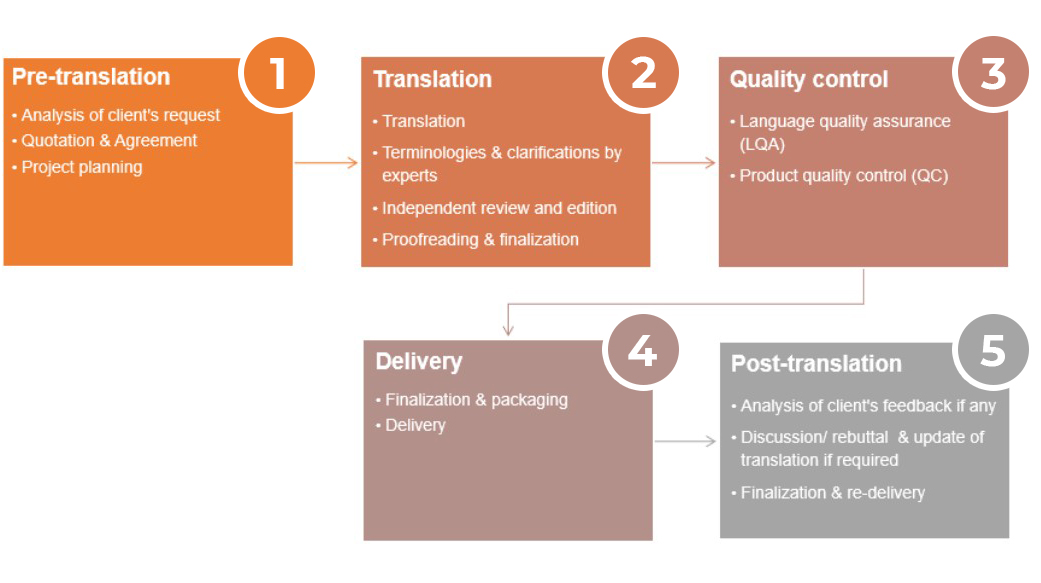 Each step is performed by well-trained translators, with professional skills and outstanding endurance. This is one of the reasons why AM Vietnam is the choice of many international organizations.
Quality certification in ISO document translation
AM Vietnam provides notarization and certified translation services as per your request. We are experienced in providing quality certification services for a variety of clients, ranging from personal clients to government agencies. Our notarized translations can be certified by Lawyers, Experts, Notaries and competent government agencies, ensuring their validity and usability in the global market.