Strict requirements apply to the processes and people involved in medical-pharmaceutical document translation. At AM Vietnam, we have successfully developed a translation process for scientific-medical documents, where the expertise of doctors from a range of specialties are made use of. Our medical document translation services all meet our customers' expectations in terms of quality, cost and time.
What is a medical document?
A medical document means any document containing information related to health care, medical studies or drug trials. Medical documents are prepared by doctors or medical experts who specialize in medical examination and treatment, as well as the study of public health.
In fact, we may encounter many medical documents on a daily basis, such as:
Medical records and health records
State management documents and laws on medical examination and treatment
Medical scientific reports and medical articles
Drug trial records, drug labels and medication instructions
Medical documents can be in hard copies or electronic form depending on the intended use of related parties.
Why medical documents are being translated
There are many reasons why an organization or individual needs to translate their medical documents into another language, such as Vietnamese or English. Some possible reasons include:
To conduct clinical trials for drugs
To perform medical examination and treatment in developed countries
To provide medication or treatment instructions
To provide health consultation for the community (medical websites).
AM Vietnam's medical translation services will ensure that your records are accurately displayed in many different languages. Also, depending on the intended use, translations of such medical documents may be certified or notarized.
Important criteria for medical document translation
As a field directly affecting health and social security, the requirements for medical document translation are strict and absolute.
Some important criteria for medical document translation:
A medical document translation should be interpreted exactly as the original
The wording should be clear, formal and intelligible
Ensuring professional medical standards
Correct use of terms
Translations must meet relevant deadlines, with absolute confidentiality
In addition, we have developed different criteria for each specific activity in providing medical document translation services. We combine people, processes and technology to create perfect translations that meet our customers' expectations.
Process for medical document translation at AM Vietnam
If you're looking for a reliable medical document translation service provider, please refer to our process below: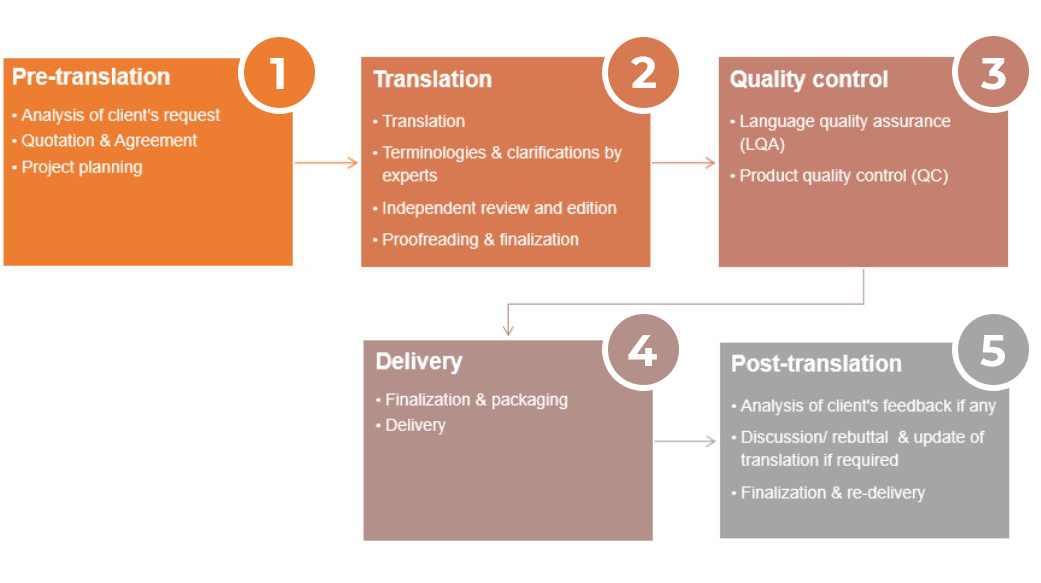 Each step is performed by well-trained translators, with professional skills and outstanding endurance. This is one of the reasons why AM Vietnam is the choice of many international medical organizations.
Medical Document Translation request
Get a free medical translation quote or require a quality test in only one step!