What are Clinical Trials?
Clinical trials are research studies that test a medical, surgical, or behavioral intervention in people. These trials are the primary way that researchers determine if a new form of treatment, such as a new drug, diet, or medical device (e.g. a pacemaker or a surgical robot) is safe and effective in people.
What should be Included in an Application for Clinical Trial in Vietnam?
Study protocol
Clinical trial outline
Investigator's brochure (IB)
Summary of brochure
Written application for appraisal and approval of the study protocol
Academic resumes and Certificate of GCP
Participant information sheet and volunteer letter
Scientific and ethical assessment prepared by a Biomedical Ethics Committee
Confirmation of participation by trial centers
Written application for drug clinical trial
Local written approval for participation in the trial
The documents contained in the Application for drug trial can be in print or electronic form depending on the intended use of the involved parties.
The Needs for Translation of a Clinical Trial Application
There are various needs for a translation of a Clinical Trial application, for example, into Vietnamese or English, including:
To obtain approval for the clinical trial 
To implement drug trial projects
To control the drug trial process by the sponsor
To obtain authorizing approval for a drug or medical device
To evaluate the efficacy and effectiveness of the clinical trial
The translation would allow your clinical trial documents to be available in multiple languages. At AM Vietnam, our translations may get certified by our own ATA's certificate or by a State Notary to be legally valid, depending on the using purposes of the documents.
What are Key Factors to a Translation of a Clinical Trial Document?
As clinical trials involve human health, and even life, the requirements for a translation of a clinical trial document are, therefore, strict and zero-tolerable to mistakes and errors. 
Key factors to a translation of a clinical trial document:
The translation should be interpreted exactly as the original
The language use should be clear, formal, and easy to read
Medical professional standards should be ensured
Standard terms and phrases should be applied
The translation should be provided on schedule with absolute confidentiality
At AM Vietnam, we also develop our own set of criteria for each specific step, combined into a scientific and reasonable process to ensure that our final products are delivered to customer expectations.
Translation Process for Clinical Trial Documents at AM Vietnam
We are happy to share our reliable translation process for clinical trial documents as below: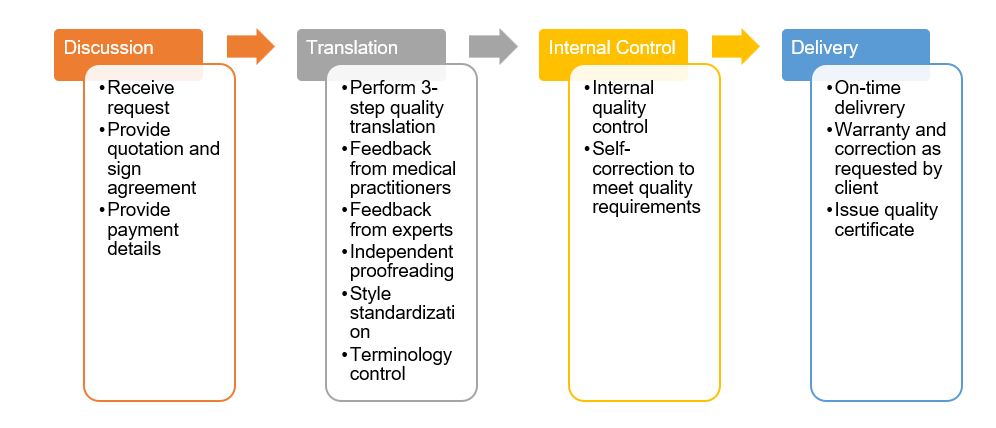 Each step in our process is performed by well-trained specialists with professional skills and outstanding working capability. All of these put a simple, yet clear reason why AM Vietnam is selected and trusted by various international clinical trial organizations for their trial projects in Vietnam.