Successfully organized through many years, IELTS is a reliable measure of proficiency for many organizations and units. VSTEP is a fairly new exam which is adopted for Vietnam only since 2015, developed by the government under the Foreign Language 2020 project. So what are the similarities and differences between these two exams?
What is IELTS?
IELTS stands for International English Language Testing System, roughly translated as International English Language Testing System, developed by ESOL organizations of the University of Cambridge (University of Cambridge ESOL), British Council and organizations Australian educational institution IDP.
IELTS candidates are divided by their purpose to study or to receive vocational training to settle in another country, depend on which they will take the corresponding exam that is IELTS Academic or IELTS General Training.
IELTS score is evaluated on a 9-point scale, which is the average of the listening, speaking, reading and writing sections. Odd marks will be rounded up so that the test has only even and half marks.
What is VSTEP?
VSTEP, which stands for Vietnamese Standardized Test of English Proficiency is an exam that reference the European Framework of Reference (CEFR) and a number of English proficiency frameworks of other countries, combined with teaching and learning practices in relation to foreign languages in Vietnam.
Candidates taking the VSTEP exam are mostly English teachers at all levels; students, university and college students; PhD students and students need to take the master's and doctoral exams.
The scoring method of the VSTEP test is also based on the average score of the exam sections, but calculated on the highest score of 10, thereby converting to the level of the candidate's level. The evaluation form of VSTEP is quite similar to CERF, but there is an additional step of classification depending on the level.
CERF

VSTEP

A1

Basic

Leve 1

A2

Level 2

B1

Intermediate

Level 3

B2

Level 4

C1

Advanced

Level 5

C2

Level 6
Exam format
Structure of the IELTS test format
An IELTS test will examine 4 skills: Listening – Speaking – Reading – Writing, each shall be done in 3 hours.
The first three skills apply equally, in terms of time, structure, etc. to all candidates. The test is only different in Writing which is divided into letter writing and report writing, corresponding to IELTS General and IELTS Academic format.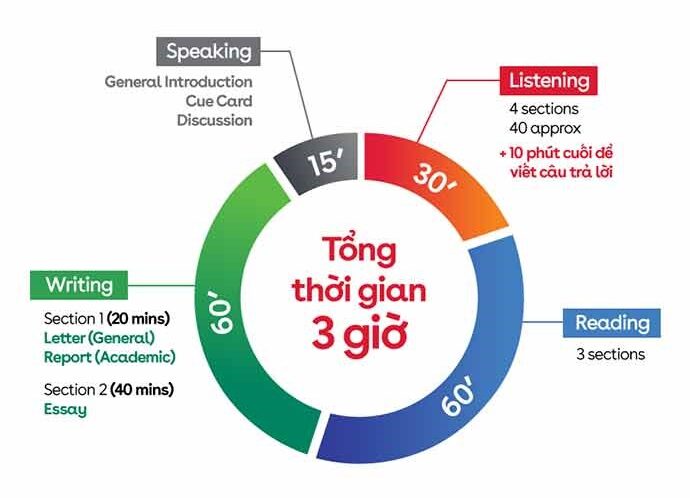 VSTEP English proficiency test format from level 3 to 5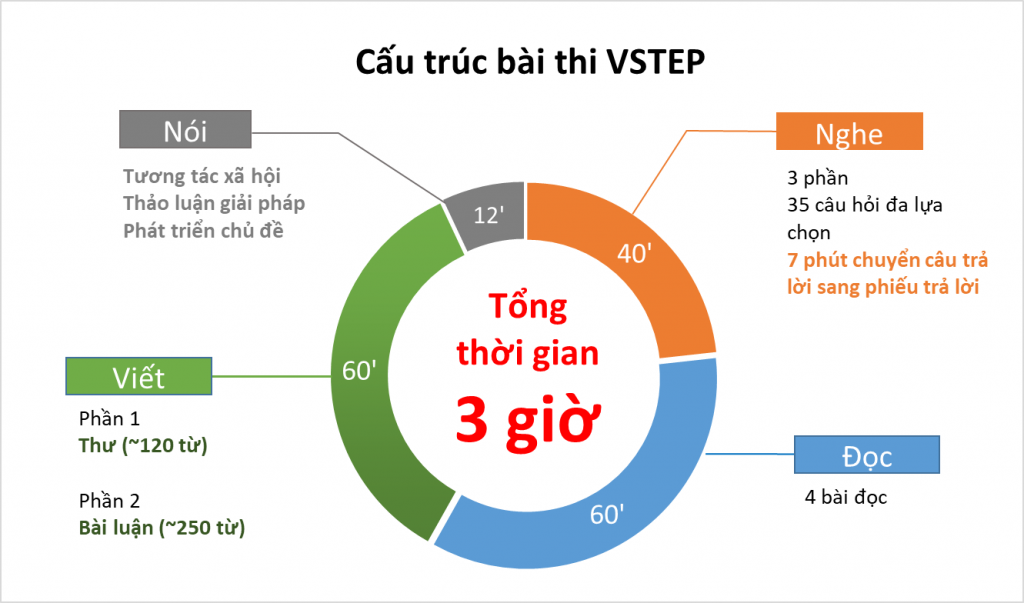 Compared to IETLS, the reading and writing tests are about the same length, both taking up 60 minutes. However, the listening skill is set to 40 minutes longer and the Speaking test time is shortened to 12 minutes.
Application of IELTS and VSTEP certificates in life
The scope of application of the IELTS certificate is as wide and diverse as the candidates. High school students have many competitive opportunities both at home and abroad when achieving IELTS certificates. In addition to the opportunity to study abroad, since 2018, many universities in Vietnam have added a method of admission with an IELTS score of 6.5 or higher, combined with academic results in the admission regulations. In 2019, students with a score of 4.0 or higher can be exempted from taking foreign language exams in the High School Exam.
For students and workers, in the context of corporate behaviors geared towards English proficiency due to global interactions, English gradually becomes a fixed requirement for candidates. Working employees can also demonstrate their competence by expressing their opinions to foreign partners, which can assist in their promotion and income.
Compared with that, VSTEP is applied as a separate standard in the evaluation system of Vietnam. The exam is applied as an entry and exit standard for students in most universities in our country. Candidates need to achieve B1 standard if they want to be recognized as having met graduation requirements, or be considered eligible to defend a master's thesis or thesis. Exemption from the English entrance exam also applies to high school students taking the entrance exam to universities and colleges as well as undergraduates taking the post-graduate exam.
Conclusions
Comparison help us see that each exam has its own characteristics, both in terms of scale, structure and scope of application, so the important thing is not the level of difficulty of the tests but the purpose of each person taking the exam.
A final note for those who wants to take VSTEP exam is that it is quite focused on the level each candidate wish to apply (such as B1, B2, C1) for classification purposes, therefore candidates should identify their level before embarking in the decision-making process.